An Easy Way to Unblock Outlook Attachments from Safe Sources
If you are an Outlook user, you might have received emails with attachments with extensions like .exe, .cmd, .asp. Outlook interprets these formats as potentially dangerous. A positive thing about Outlook is that it prevents our system from the attack of unknown malware or virus.
Outlook is not a virus detector and hence it blocks the attachment files according to their extensions and sources. It is not suggested to unblock Outlook attachments which are referred as unsafe ones. However, due to various requirements, we need to unblock those attachments to access important files and programs.
Unblocking attachments involve Registry modification. If you edit the Registry, it is necessary to roll back changes after saving the attachment file. Please remember that changing the Registry for receiving attachments and then not restoring the original registry makes your system vulnerable to malware intrusion.
Please follow the below mentioned steps for the registry edit (make sure Outlook is not running in the background):
1.Open the Registry Editor as:
Start-> type 'regedit' in the Search Bar (Applicable for Windows 7, 8 and 10)
Start-> Run-> 'regedit' (for Windows XP)
2. A 'User Account Control' dialog box pops up. Click 'Yes' to go to the Registry Editor window. In the Registry Editor window, locate the following key:
Outlook 2007 – [HKEY_CURRENT_USER\Software\Microsoft\Office\12.0\Outlook\Security]
Outlook 2010 – [HKEY_CURRENT_USER\Software\Microsoft\Office\14.0\Outlook\Security]
Outlook 2013 – [HKEY_CURRENT_USER\Software\Microsoft\Office\15.0\Outlook\Security]
Outlook 2016 – [HKEY_CURRENT_USER\Software\Microsoft\Office\16.0\Outlook\Security]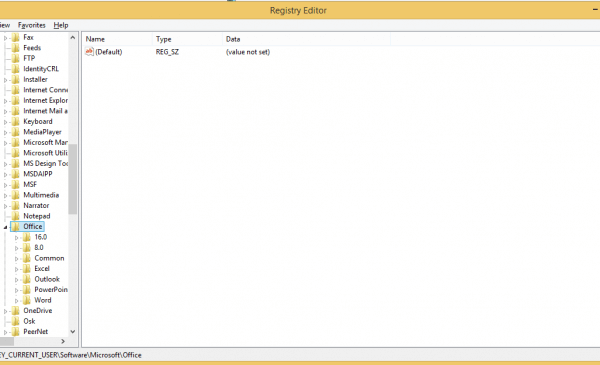 3. Go to Edit > New > String Value.
4. Rename the value of the item as Level1Remove.
5. Double-click on the newly created value and enter the extension including the "dot" that you want to open in Outlook. For instance .exe or.msi
Note: If you need to enter multiple extensions, you need to separate them with a semicolon. For e.g., if you want to insert .exe, .bat, .msi, add values like this .exe;.bat;.msi.
6. Click 'OK' in the input box and close the registry editor.
Now when you launch Outlook, the attachments with the specified extensions are not going to be blocked by Outlook anymore.
Other issues related to Outlook attachments
Outlook attachments can be harmful in some other ways too, especially when they are too many in number or too large in size. They consume a lot of spaces. Fortunately, all such issues can be resolved using Outlook attachment tools. Kernel for Attachment Management is a powerful tool devised for seamless extraction of attachments from email messages. One of the salient features of this tool is that it executes customized rules for extracting attachments from emails. This tool provides various options like filtering for effectively managing Outlook attachments. You can try the free version of the tool as well.