This morning, when I was working on my system, suddenly a blue screen appeared with an error stating 'Your PC ran into a problem and needs to restart.' I am stuck there and can't figure out what to do. Can anyone help me with the right professional method?
The scenario mentioned above can happen to anyone and can stop everything going on in the system. If you are also facing the same error as above and are forced to leave your work unfinished, then this blog is going to help you with a few hacks and methods to overcome the issue.
Apart from error notification, 'Your PC ran into a problem and needs to restart,' you can also get an error notification stating, "Your PC ran into a problem and needs to restart. We're just collecting some error info, and then we'll restart for you." Do not confuse, they both are the same. Various users can also come across a few error codes like:
BAD_SYSTEM_CONFIG_INFO
Stop code: 0xC0000021A
INACCESSIBLE_BOOT_DEVICE
CRITICAL_PROCESS_DIED
Why Might You Be Facing This Error?
Knowing the actual cause of any error can make it very easy to find the solution. Similarly, if you know the cause of this error, you, too, can fix this error at earliest. Here we are going to mention a few reasons that can lead to this error:
Improper system shutdown practices
Virus attacks
Corruption in files or folders
Issues or corruption in Driver
Insufficient memory or any other memory-related issue
Improper or weak hard drive connection
Fix The Error 'Your Pc Ran Into A Problem And Needs To Restart'
There are many approaches to fix this error; we are listing a few of those approaches, let's see which one works for you.
As we have discussed in the causes of this error, this error may occur due to misbehaving external drives or peripherals. So, if you are facing this error, consider removing or detaching all your connected external drives. Once you remove all the connected external drives, see if the error occurs again.
Note: Keep your Mouse and Keyboard attached.
Sometimes the problem occurring on the normal Windows login disappears when the user switches to the Safe mode. You can start the Windows in Safe mode and use the Interrupt Windows Boot Process method. Alternately, you can use Windows Installation CD/DVD/USB to start the system in the Safe mode.
System File Checker a.k.a. SFC works like magic for most of the Windows problems; it works for this error too. This solution helps by fixing the corruption in Windows system files. So, if there is any corruption in the Windows System file, this utility will detect and repair it. SFC has a unique command, "SFC scannnow" that can fix the problem. To run the command, follow the below-mentioned steps:
Click on the Start button, and in the search bar, type Command Prompt.
In the search suggestions, right-click on the Command Prompt option, and from the menu on the right-click on Run as administrator.

A command Prompt dialogue box will open, there you need to type "sfc /scannow" and press Enter.

As you press the Enter key, the scanning will take place; wait for the scanning to finish.
Restart the system after that and see if the problem persists.
Drivers are very important for smooth and uninterrupted user experience on any system. Drivers are medium between system and other software, and hence without them, working on a system is quite impossible. One of the reasons behind this problem is a missing or misbehaving device driver, so to get the desired results, we will need to reinstall all the drivers once again. Do it and verify if the problem is still there.
Updating Windows works for most of the problems occurring on Windows, and hence it works for this error too. So, if you have not updated your Windows recently, then maybe this error is indicating that, and it's time to update Windows. To look for the update requirement, click on the Start menu and type "Check for Updates" and when it appears in the search, click on it. As you click on it, you will be taken to a Windows update section. In that section, click on Check for Updates, and Windows will look for it. If updates are available, install it and see if the problem is gone.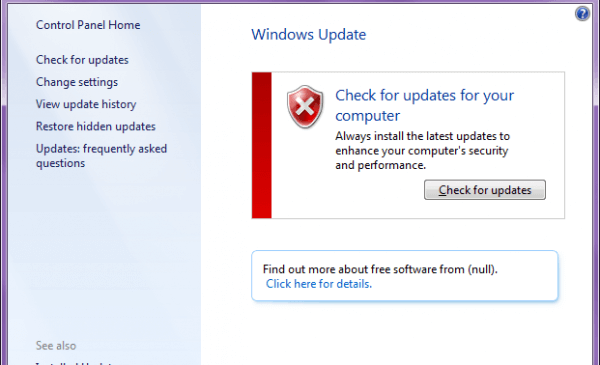 Uninstall Newly Added Software
Sometimes, when you add new software from unknown or suspicious sources, they may make a few changes to your system leading to many problems. So, it is also possible that any recently added software is causing this error and uninstalling them is the only solution. To uninstall any application or software from your system, press Win + R key. In the Run Window type "appwiz.cpl" and press Enter key, as you press the key, a Window will appear with all programs listed in it. Right-click on the program that you want to uninstall and click on the Uninstall option to proceed. Similarly, uninstall all the recently added programs and restart your system. Check if the problem occurs again.
Conclusion
In this blog, we have discussed how one can fix a blue screen error stating 'Your Pc Ran into A Problem and Needs to Restart.' We have discussed the various codes for this error and the reasons why this error occurs. We have discussed many manual hacks and methods with which once can easily fix this error. If you too are facing this problem, you can try either of them or all of them one by one until the problem is finally solved. Apart from this error, if you are facing any other Windows related problem regarding data loss or data/drive corruption, you can try Kernel for Windows Data Recovery Software for smooth and quick recovery of the data. This tool is created by using advanced technology and algorithms and recovers data without making changes in its original form.